Love...ANU
ANU Man is a natural, light and nourishing men's facial moisturiser. Its non-greasy formula will leave your skin healthy in appearance and deeply hydrated.
Ingredients
Carrageen Irish Moss*, a nutrient dense seaweed, helps to moisturise to the skin while nourishing and protecting it.  Olive, Coconut and Sunflower oils are rich in antioxidants. These repair the skin's barrier and they promote wound healing. Almond oil helps to treat dark circles under the eyes.
I have combined essential oils of clove, lemon, eucalyptus and nutmeg so as to provide antiseptic and anti-inflammatory benefits. Therefore, wrinkles and breakouts will be reduced.
Carrageen Irish Moss and carrot seed essential oil both detoxify the skin while enhancing the production of collagen. This is the protein which provides your skin with structure.
Combined, these ingredients smooth over the signs of ageing and above all, improve skin health.
This natural men's moisturiser is suitable for all skin types.
Directions
Use once in the morning and at night after cleansing. Apply with clean fingertips and spread the moisturiser upwards and outwards on your face using circular motions.
Love your skin? Love…ANU.
Also available in a 10ml size or as part of a gift (see gift range)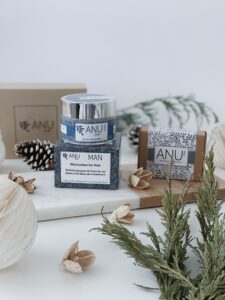 Return to Refill
If possible, please return your empty container to me in Marlay Park, Dublin for store credit because I can reuse it. I'm always delighted to get it back.
*Carrageen Irish Moss
This virtually odorless seaweed is hand harvested and sourced from the clean waters of the West of Ireland. This seaweed is loaded with vitamins and beautifying minerals which help soften, hydrate and strengthen the skin. It also soothes eczema, psoriasis and dermatitis.  Carrageen Irish Moss promotes cell renewal, tissue repair and the production of collagen. Collagen is the fibrous protein that helps give strength and elasticity to skin. We begin to produce less of it from our mid-twenties, so including collagen promoting products in your skincare is key to anti ageing.