Love...ANU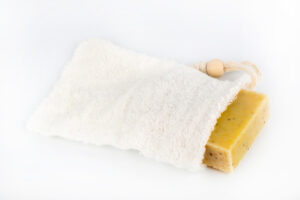 ANU Earth's Bamboo Soap bag is made from 100% bamboo, so it's naturally antibacterial and antifungal and so soft on skin.
Using a soap bag is the ideal way to get the most of your handmade soap, especially as it nears the end of the bar. It transforms any soap bar into a very gentle exfoliator and it's soft enough to use on your face. Simply pop your soap inside the bag to use.
This bamboo soap bag can also be used for Himalayan Salt bars. Insert the salt bar into the bag. At the end of your shower, dampen the bag and rub all over the body for a skin detox.  (The salt bars are available in the shop in Marlay Park €9.50)
Bag is machine washable.
Love your skin…Love ANU